I'm so happy to be a guest-poster on Molly Crocker Cooking! Thanks Molly for inviting me!! :)
I am a sucker for chocolate chip cookies. I have a favorite go-to chocolate chip cookie recipe that never fails to produce the BEST chocolate chip cookies. Today, I couldn't find that recipe, so I experimented with something a little different, and these cookies did NOT disappoint!
With a healthy addition of oats and whole wheat flour as well, these definitely moved to the top of my recipe arsenal!
Enjoy!
*krysta*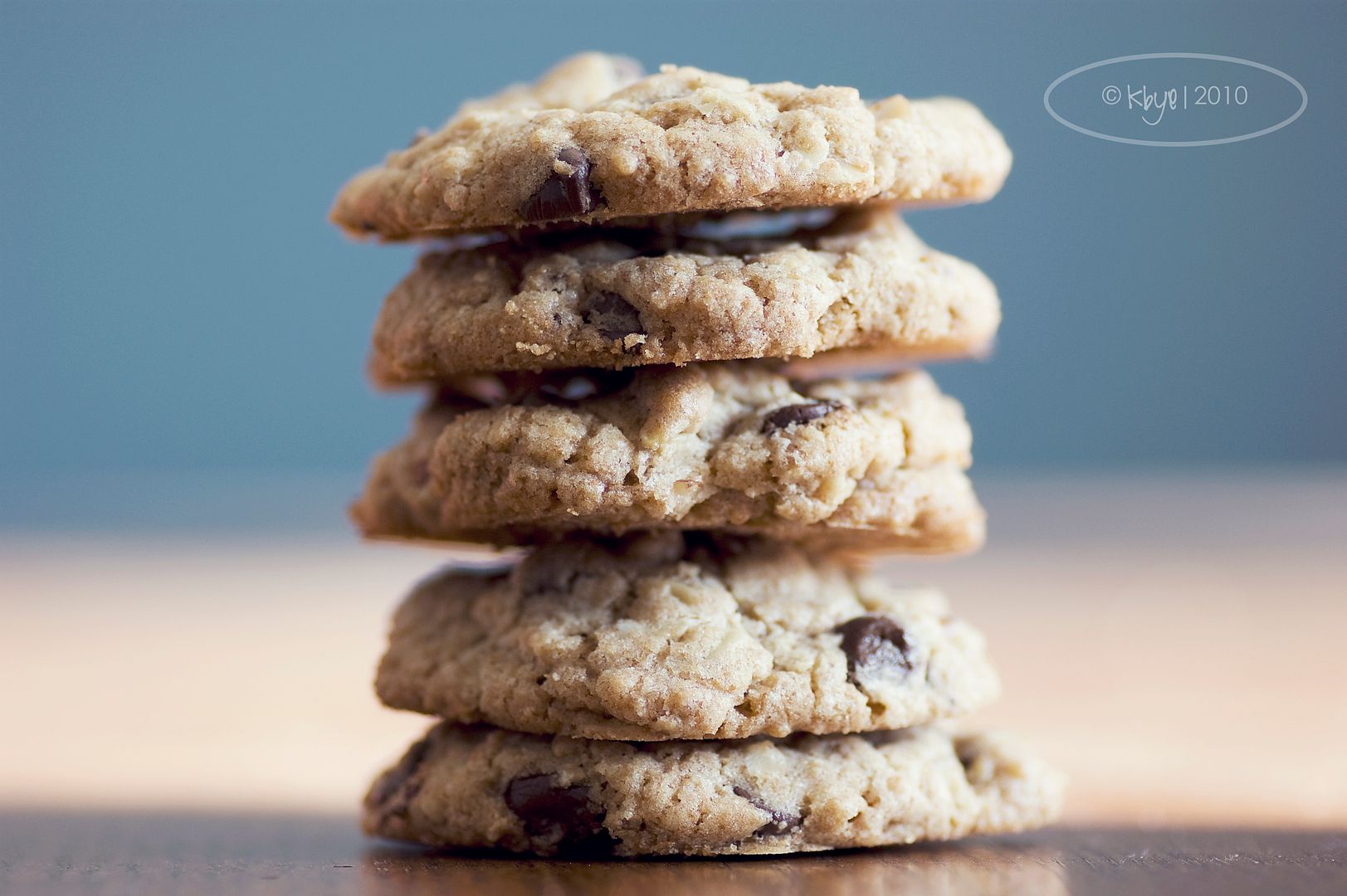 Chocolate Chip-Oatmeal-Pecan Cookies
1/2 c Butter, melted
1/2 c Shortening
1 c Packed Brown Sugar
1/2 c Sugar
2 tsp Vanilla Extract
2 Eggs
3/4 c Rolled Oats
1 1/2 c Whole Wheat Flour (I used Stone Ground)
2 Tbsp All-Purpose Flour (you can add more if your dough seems sticky.)
1 tsp Baking Soda
Dash of Salt
1 (12 oz) bag Chocolate Chips (I used a mix of Milk Chocolate and Semi-Sweet.)
1 (6 oz) bag Pecan Halves, toasted & chopped
Preheat Oven to 350 degrees.
Toast Pecan Halves and Chop - set aside.
Cream butter, shortening and sugars - then add eggs and vanilla until fluffy. Stir together oats, flour, baking soda, and salt; gradually add to butter mixture, beating until well blended. Stir in chocolate chips and chopped pecans. Shape dough into 1" balls (I just use my small Pampered Chef cookie scoop with the rounded part facing up). Place 2 inches apart on lightly greased cookie sheets.
Bake 10-12 minutes until lightly browned; remove from oven. Let the cookies rest on the pans for another couple minutes, then transfer to wire racks to cool completely.
Makes approximately 3 dozen cookies.